Hammershus Fairtrade
(English summary)
Hammershus Fairtrade is a non-commerciel Fair Trade company. We work for sustainable development and povertyreduction in Africa, by:
Importing and selling Fair Trade products
Providing professional and technical support to African producers and collaboraters
Arranging concerts and travels, to inform and raise funds to development projects
Hammershus Fairtrade has existed since 2001 and is owned by Morten Ledskov, who lives in Sandvig on Bornholm, Denmark.
Imports of Fair Trade products
Imports of Fair Trade products
Hammershus Fairtrade imports and sells Fair Trade products, in order to support sustainable development and poverty reduction, in Africa especially. Fair Trade is tradewhich respekts for people and the environment and contributes to sustainable development.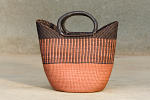 The majority of the products, we import is produced in Ghana, but we also import a few products from Burkina Faso. We import a lot of different products but focus on the groups of products, which are:
Hammershus Fairtrade is a member of Fair Trade Danmark, which is a Danish organization for Fair Trade shops and importers.
Support to producers and collaborators in Africa
As far as possible, we support our partners in product development, marketing and process optimization. Especially product development is important for being able to sell the products at the Scandinavian market. And sale is the most important means for the producers to work their way out of poverty.
It is our strong belief that African producers are best helped through self help. Therefore, we do not give them money but help them to become better craftsmen and business people. We also support local activities to improve democratic- and human rights.
The support to producers and collaborators is, among others, made possible by the surplus from the yearly support concert on Bornholm which is arranged by Hammershus Fairtrade, as well as by the surplus made from the sale of Fair Trade products. Hammershus Fairtrade is also supported by Danidas Business to Business program to stregthen the production of baskets in the Northers Ghana.
Events, information and fundraising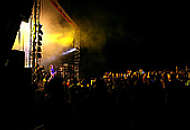 Every year, Hammershus Fairtrade arranges a support concert on Hammershus, Bornholm as part of the Fair Trade festival - the latter taking place in the whole month of July. All surplus from the ticket sale goes to development projects. A central element of the concert and the Fair Trade festival, is information about development countries, which a number of organizations and individuals help carrying out.
Every year, Hammershus Fairtrade organizes study trips to Ghana, at which one get an insight in the challenges and possibilities, which the local population faces. The travels lasts in 10-12 days, and take place in the schools' autumn vacation.